08-03 — Best Practices in Addressing NPDES and Other Water Quality Issues in Highway System Management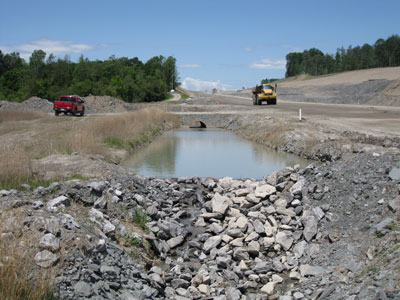 Non-compliance with National Pollution Discharge Elimination System (NPDES) permits can impact project design, engineering and construction schedules and increase construction time and costs. Successful implementation and compliance with NPDES permits requires the appropriate transfer of information and accountability through multiple phases of project delivery.
Compliance with state and federal storm water regulations is complex, and DOTs must continually examine their approach to complying with the goals of improving water quality and reducing implementation costs. Additionally, DOT infrastructure improvements can be delayed if storm water requirements are not well integrated early into the planning and project delivery process. Participants in this scan investigated these issues, among others, surrounding the implementation of DOT storm water programs.
Scan Results and Report
Tracing Scan Impacts
Scan Members
For detailed member information click here.
Scott McGowen, California DOT
Scan Co- Chair
Brian Smith, FHWA
Scan Co-Chair
Vincent W. Davis, Delaware DOT
Frances Brindle, Oregon DOT
Matthew S. Lauffer, North Carolina DOT
Mark Hemmerlein, New Hampshire DOT
Patricia A. Cazenas, FHWA
Jeff Lewis, FHWA
Tom Ripka, Illinois DOT
Rachel Herbert, U.S. EPA
Scott Taylor
Subject Matter Expert
Sites Visited
State transportation agencies in:
New York
Maryland
North Carolina
Texas
Florida
Washington, D.C.