07-05 — Best Practices in Bridge Management Decision-Making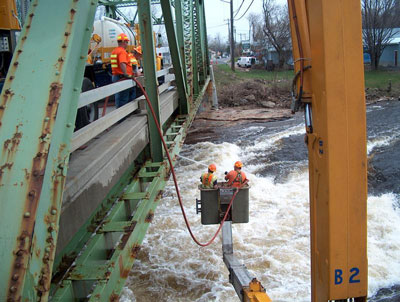 The Bridge Management Decision-Making scan focused on practices among US transportation departments for identification, prioritization and execution of programs for maintenance of highway bridges. The scan included a review of DOT manuals, guidelines, and policy statements, collection of responses to amplifying questions from DOTs, and travel to seven sites for meetings with DOT staff. The most detailed information was collected from thirteen DOTs that participated in meetings with the scan team. Document review in preparation for the scan included input from eleven other DOTs; overall, the preliminary desk scan included sixty-eight documents collected from twenty-one US transportation agencies.
The scan team prepared recommendations for practice in bridge maintenance in the areas of Preventative Maintenance, Bridge Management Process, and Agency Support.
Scan Members
For detailed member information click here.
Peter Weykamp, New York State DOT
Scan Co-Chair
Tod Kimball, FHWA Vermont Division
Scan Co-Chair
Bruce V. Johnson, Oregon DOT
George H Conner, Alabama DOT
Keith Ramsey, Texas DOT
Arthur D'Andrea, Louisiana DOT
Scot Becker, Wisconsin DOT
George Hearn, University of Colorado at Boulder
Subject Matter Expert
Sites Visited
State transportation agencies:
Washington
Michigan
Ohio
Virginia
Florida
Delaware
California
County transportation agencies:
El Dorado/Placer County, California
Turnpike authority in Florida